During its long history the Vieille Montagne has acquired, developed and managed mines, ore dressing factories, transformation plants, sales representations and had associated companies all over the world.
The list of countries concerned so far is Algeria, Belgium, France, Germany, Great Britain, Italy, Mexico, Spain, Sweden, Tunisia and the United States. This page brings together an quite large first overview of the VM company's establishments.
It forms a brief starting point of miscellaneous scraps of information for what will be a much broader and deeper project the association Vieille Montagne Heritage will develop in the coming months.
The content is likely to change frequently as new information comes in. More in-depth information will be added to each individual site further studied, discovered or rediscovered in the country concerned.
Please feel free to contribute anything in whatever language, so far we can deal with English, French, German and Italian.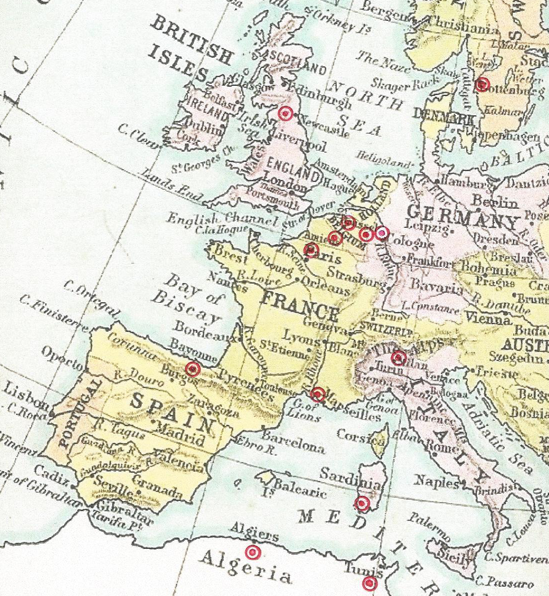 Vieille Montagne - one of the first ever multinational company
The seeds of the Vieille Montagne Company of Belgium were sown on 19th January 1810, when Emperor Napoleon granted the concession of the Altenberg mine to JJ Dony leading to the construction in Liege of a furnace to extract zinc from calamine.
About the turn of the 20th century the Vieille Montagne was at the peak of its international expansion. By 1905 the Vieille Montagne had seven mining and metallurgical facilities in Belgium, eleven in France, eight in North Africa, three in Germany, two in Sweden, four in the north of England, four in Italy and two in Spain, as well as agencies all around the world !
After the 1st World War, Europe faced competition from new zinc-producing countries, such as USA, Canada and Mexico, as well as contending with the severe post-war depression. This led the Vieille Montagne company to develop its concessions in Sardinia and North Africa.
By the time of the company's centenary in 1937 the Vieille Montagne had mines and plant in several countries in Europe and North Africa, as well as associated companies there and agencies in Mexico and United States